Field Instruments You can Trust - For over 125 Years of global communications leadership, Anritsu is still the one you can trust for reliable, rugged, handheld instruments that deliver accurate measurements in the field for digital fiber, RF & Microwave installation, maintenance, and optimization requirements.
SOLUTIONS FOR PASSIVE INTERMODULATION (PIM)
---
Solving the PIM Dilemma
With all the talk about 5G New Radio (5G NR) being deployed, we are once again reminded of the conundrum of the overcrowded RF spectrum. Along those lines (pun intended), T-Mobile's nationwide 5G...
Read Article

2:52
PIM Master Hunting Setup
In this video, you will see a demo of pinpointing PIM sources using the Anritsu Site Master and PIM hunting wand, and set-up of the Site Master for fast audio tones.
Watch Video
Want a head start on tomorrow's technologies? Sign up for monthly insights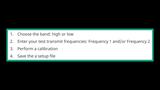 7:08
PIM Master Multi IM Testing
Watch Video
PIM Over CPRI Provides Effective Testing of 5G
As cellular network density increases, passive intermodulation (PIM) effects are becoming more profound…and potentially more disastrous, especially when it comes to 5G. Though PIM is predominantly...
Read Article

2:06
PIM Measurements
Watch Video
Identifying Sources of External PIM
Passive intermodulation (PIM) is a well-known problem in cellular systems.
Read White Paper
CELLULAR NETWORKS (5GNR) & INTERFERENCE HUNTING
---
Loading More...